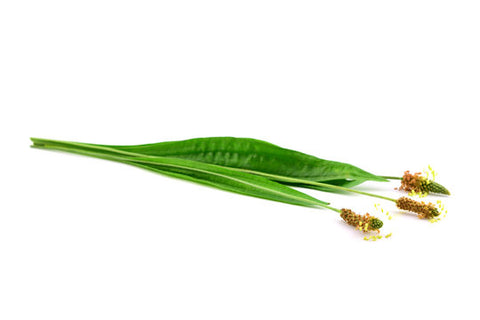 When it comes to skincare, nature has bestowed upon us a multitude of hidden gems, and one such treasure is plantain. This humble plant, often overlooked in favor of its more illustrious botanical counterparts, holds a wealth of benefits for our skin. Here at 'Ohana Organics, we recognizes the potential of this remarkable herb and incorporate it into their products, unlocking the transformative power of plantain for skincare enthusiasts around the world. Join us as we delve into the world of plantain and uncover the incredible benefits it offers for achieving healthy, radiant skin.
Plantain (Plantago), also known as Nature's Band-Aid, is a common weed with various benefits for the skin. The leaves of the plantain plant have been used traditionally for their medicinal properties to aid bruises, bug bites and stings. Here are some of the benefits of plantain for the skin:
Nourishes and Moisturizes:
Plantain possesses exceptional moisturizing properties that make it an ideal ingredient for promoting supple and hydrated skin. It contains natural emollients that help lock in moisture, preventing dryness and maintaining optimal skin hydration levels. By incorporating plantain into your skincare routine, you can bid farewell to dry, flaky skin and welcome a smooth, dewy complexion. The mucilage content in plantain leaves provides natural moisture and hydration to the skin. It helps to improve the skin's natural barrier function, preventing moisture loss and keeping the skin hydrated.
Soothes Irritated Skin:
With its anti-inflammatory and soothing properties, plantain proves to be a soothing balm for irritated and inflamed skin. Whether you're dealing with sunburn, insect bites, or minor rashes, plantain can help calm and alleviate discomfort. The plant's bioactive compounds, such as allantoin, aid in reducing redness and irritation, allowing your skin to heal more quickly,  providing relief from conditions like eczema, dermatitis, insect bites, and minor burns.
Promotes Wound Healing:
Plantain possesses remarkable wound healing capabilities, making it an excellent ingredient for addressing minor cuts, grazes, and skin abrasions. The herb's antimicrobial and antibacterial properties help protect wounds from infection, while its regenerative properties stimulate the production of new skin cells. Plantain leaves have been traditionally used for their wound healing properties. The natural compounds in plantain, including tannins and mucilage, may help promote tissue repair and speed up the healing process of minor cuts, scratches, and abrasions. By incorporating plantain-infused products into your skincare regimen, you can accelerate the healing process and minimize scarring.
Combats Acne and Blemishes:
If you struggle with acne or blemish-prone skin, plantain could become your new ally. Its natural antibacterial properties help combat acne-causing bacteria, reducing breakouts and promoting clearer skin. Additionally, plantain's astringent properties help tighten pores, regulate sebum production, and diminish the appearance of blemishes, leaving you with a smoother and more refined complexion.
Anti-Aging Effects:
Plantain is a rich source of antioxidants, such as flavonoids and vitamin C, which play a crucial role in neutralizing harmful free radicals responsible for premature aging. By incorporating plantain-infused skincare products into your routine, you can help minimize the appearance of fine lines, wrinkles, and age spots, while promoting a more youthful and vibrant complexion.
Plantain, with its incredible array of skin-loving properties, has emerged as a secret weapon in the realm of natural skincare. Here at 'Ohana Organics, with our commitment to harnessing the power of nature, we have embraced this botanical wonder, offering products that deliver its remarkable benefits to your skin. From its nourishing and moisturizing qualities to its soothing and wound healing properties, plantain has rightfully earned its place as a skincare superstar. So why not incorporate the power of plantain into your daily routine and unlock the true potential of your skin? You can experience the transformative effects of plantain and revel in the beauty of naturally radiant skin.
Here at 'Ohana Organics, we organically grow and us our own plantain in all our healing products. You can find plantain in our Tattoo Butter, Kava Butter,and  Da Kine Salve