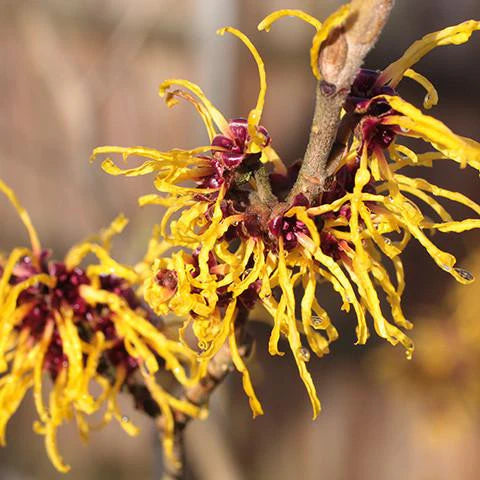 In the realm of natural skincare, there is a timeless ingredient that has been cherished for centuries: Witch Hazel. Known for its remarkable astringent and healing properties, witch hazel is a botanical powerhouse that offers a plethora of benefits for your skin. Here at 'Ohana Organics we recognizes this magical herb and harnesses its power to deliver transformative skincare solutions. Join us as we explore the world of witch hazel and discover the extraordinary benefits it brings to your skincare routine.
One of the most celebrated qualities of witch hazel is its astringent properties. It helps tighten and constrict the skin, which reduces the appearance of enlarged pores. By incorporating witch hazel-infused products into your skincare regimen, you can enjoy a more refined complexion with minimized pore size, leading to a smoother and more even skin texture.
For those with oily or acne-prone skin, witch hazel is a true blessing. Its natural astringent properties help regulate sebum production, reducing excess oiliness and keeping shine at bay. Using witch hazel-based products into your routine, you can maintain a balanced complexion while preventing clogged pores and breakouts.
Witch hazel boasts remarkable anti-inflammatory properties, making it an excellent ingredient for soothing and calming irritated skin. Whether you're dealing with redness, sunburn, or post-shaving irritation, witch hazel can help provide relief. It acts as a gentle, natural remedy that reduces inflammation, redness, and itching, leaving your skin feeling calm and refreshed.
Witch hazel has long been revered as a natural toner, helping to restore the skin's pH balance. By incorporating witch hazel into your skincare routine, you can promote a healthier skin barrier and enhance its ability to retain moisture. Its toning properties also help to tighten and firm the skin, giving it a youthful and revitalized appearance.
The powerful antioxidants present in witch hazel, such as tannins and flavonoids, make it a valuable ally in the fight against premature aging. These antioxidants help neutralize free radicals and protect the skin from environmental damage, reducing the appearance of fine lines, wrinkles, and age spots. By incorporating witch hazel-infused products into your skincare regimen, you can promote a more youthful, radiant complexion.
Witch hazel has rightfully earned its place as a skincare hero, delivering an array of remarkable benefits for your skin. Here at 'Ohana Organics, with our dedication to harnessing the power of nature, embrace the magic of witch hazel, offering products that unveil its transformative potential. From its astringent and pore-refining qualities to its soothing and anti-aging properties, witch hazel holds the key to unlocking radiant and healthy skin. Embrace the power of witch hazel with Herbal Toner & Balancing Mist, our Face, Beard, and Tattoo Wash, our First Aid Spray, and our Handi Sani. Discover the enchantment it brings to your skincare routine. Say hello to a clearer, more balanced complexion and bid farewell to skincare woes with the magic of Witch Hazel.