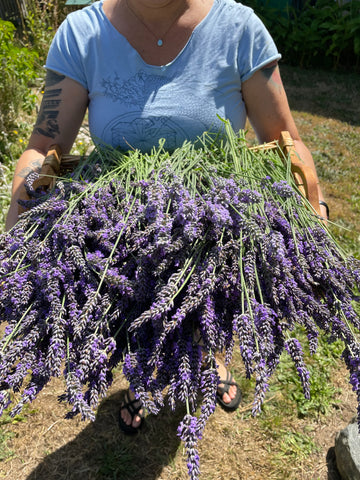 The world of natural skincare has long revered lavender not only for its intoxicating scent but also for the plethora of skin benefits it offers. Lavender, with its beautiful purple hue and aromatic charm, is a botanical powerhouse that is as healing to the skin as it is to the senses. Here at 'Ohana Organics, we have harnessed the properties of this lovely flower, creating products that allow you to enjoy the soothing and rejuvenating benefits of lavender. Let's delve into the world of lavender and discover the remarkable ways it can elevate your skincare routine.
Lavender's calming and anti-inflammatory properties make it an excellent solution for irritated and inflamed skin. From minor burns to sun-induced irritation, lavender provides soothing relief while accelerating the skin's healing process. Incorporating lavender-infused skincare products into your routine can help calm redness and inflammation, promoting healthier, more balanced skin.
The calming scent of lavender has been shown to reduce anxiety and promote better sleep quality, which is essential for healthy skin. A good night's sleep enhances skin repair and regeneration, leading to a more vibrant complexion. Lavender-based skincare products in your nighttime routine can help you unwind, contributing to a more restful sleep and radiant skin.
Lavender's natural antibacterial properties help combat harmful bacteria that can cause acne and skin infections. Lavender-infused skincare products can aid in preventing and healing acne breakouts, leading to clearer, blemish-free skin.
Lavender is known for its ability to promote tissue regeneration, making it beneficial for healing minor cuts, burns, and other skin injuries. Its anti-inflammatory properties also help reduce swelling and inflammation, speeding up the healing process and reducing the likelihood of scarring.
Rich in antioxidants, lavender helps combat free radicals, which are responsible for signs of aging such as wrinkles and fine lines. By incorporating lavender into your skincare routine, you can fight against premature aging, maintaining a youthful and radiant complexion.
The wonderful benefits of lavender make it a cherished addition to any skincare routine. From its calming and healing abilities to its powerful antibacterial and anti-aging properties, lavender truly is a botanical gift. Here at 'Ohana Organics, we are proud to bring the magic of lavender to your skincare regimen, allowing you to enjoy all the incredible benefits this flower has to offer. Whether you are looking to soothe irritation, promote relaxation, or maintain youthful skin, our lavender-infused products can help you achieve your skin goals. Embrace the beauty of lavender and let the journey to healthier, radiant skin begin!
All of our products are infused with lavender. Products that have additional lavender scent are our Lavender Shea Butter Creams in whipped and solid formulas, and our Lavender Tattoo Butter Creams in whipped and solid formulas.