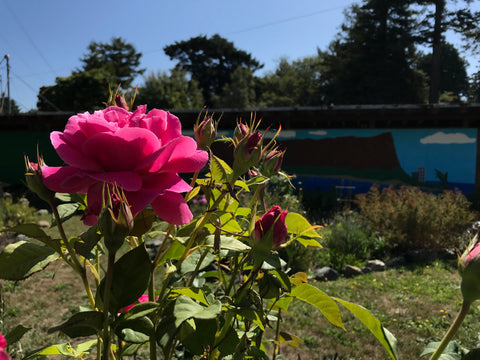 Aloha!
We are excited to announce that we are starting our first blog ever! So welcome to our blog! Our mission on starting a blog was for one to feel a close connection with our products and get to know us as a business. Through our blog, we plan to provide knowledge of the benefits and importance of our ingredients. To keep you updated on upcoming events, share some fun DIY beauty skin care recipes and show you what we do inside and out of our manufacturing facility. We also want to bring you awareness about sustainability and health. It's important to help others understand the benefits of living a sustainable lifestyle. So welcome to our peaceful, humble, gracious and most importantly living Aloha journey!
We are a family, a woman-run, organic beauty care company. After moving to California from Hawaii, I found myself missing the scents and beauty of the islands. So, with this passion and science background, I started 'Ohana (Family) Organics. Since 2000, we have grown all our own certified organic herbs and handcrafted our botanically infused skin care. Our products are over 90% organic, made in small batches and never tested on animals. We value the importance of what impacts we create for our environment and people; therefore, we perform sustainable farming, use recycled materials, and support fair trade.
This is 'Ohana Organics beautiful home. Here we grow all our own certified organic herbs and handcraft our skincare. When it is sunny outside, we enjoy playing in the garden and soaking up the sun.
 We hope you enjoy our products and look forward to our next blog. Aloha!