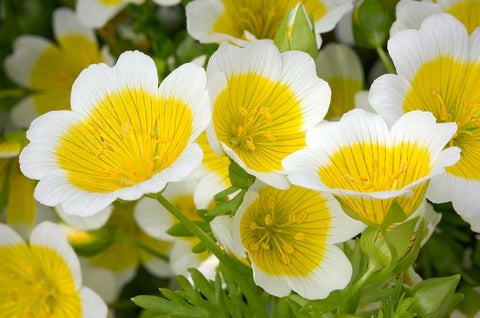 In the vast world of natural skincare, certain ingredients stand out not only for their unique properties but also for the transformative effects they have on our skin. One such gem is meadowfoam seed oil. Derived from the seeds of the meadowfoam plant, this oil offers an array of benefits that are gaining recognition among skincare enthusiasts. 'Ohana Organics proudly incorporates meadowfoam seed oil into our Facial Oil, and today, we invite you to explore its captivating properties and the ways it can elevate your skincare routine.
Meadowfoam seed oil is renowned for its moisturizing abilities. Its composition closely resembles human sebum, allowing it to integrate seamlessly with our skin's natural barrier. The result? Deep hydration that doesn't leave a greasy residue, ensuring soft, supple skin.
Rich in antioxidants, especially Vitamin E, meadowfoam seed oil provides a protective barrier against environmental stressors, such as pollution and UV radiation. It combats oxidative stress, keeping the skin youthful, radiant, and free from premature signs of aging.
The unique structure of meadowfoam seed oil allows it to lock in the benefits of other ingredients. When combined in formulations, it ensures that the skin absorbs all the goodness of accompanying ingredients, enhancing the overall efficacy of skincare products.
For those with compromised skin barriers or conditions like eczema, meadowfoam seed oil can be a game-changer. It not only provides hydration but also supports the skin's natural barrier function, ensuring that essential moisture remains locked in.
Despite its rich texture, meadowfoam seed oil is non-comedogenic, which means it won't clog pores. This makes it an excellent choice for all skin types, including those with acne-prone or sensitive skin, who can benefit from its moisturizing properties without the risk of breakouts.
Meadowfoam seed oil is undeniably a gift from nature – a testament to the botanical world's ability to offer solutions that resonate with our skin's inherent needs. Here at 'Ohana Organics, our commitment is to harness nature's purest ingredients. With the inclusion of meadowfoam seed oil in our products, we aim to offer you a touch of nature's luxury, ensuring your skin receives the best care it deserves.
Dive into the embrace of meadowfoam with 'Ohana Organics Facial Oil, and let your skin revel in the beauty and benefits of this botanical wonder.